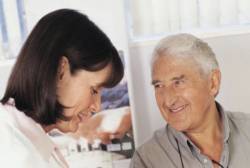 Where do I start? Who do I trust? What kind of information is beneficial to me before choosing a hip replacement procedure for my hip pain?
The following list of questions will help you evaluate your unique situation for hip replacement surgery, and gather important information in helping your prepare for surgery.
Are you board certified?
Do you have materials or videos on hip replacement surgery?
How much improvement can I expect from this surgery?
What level of experience do you possess, and how many surgeries have you performed?
What are the risks involved?
What type of anesthesia will be used?
What type of implant will be used?
How long will I have to stay in the hospital?
How much pain is normal to expect and how long will it last?
When will I start physical therapy?
Will I need home or outpatient therapy?
What limits will there be on activities—such as driving, bathing, climbing stairs and sex?
How long will I need to be out of work?
Get a FREE quote for Hip Replacement
Once you click the button you will receive your quote in your email within a few minutes and we will never spam you.