SERVING PATIENTS WORLDWIDE
We were recommended to Dr. Mendoza by Dr. Torres in Mazatlan as a highly skilled and meticulous surgeon. I had waited in pain for close to 3years in Canada for treatment ; The surgery was completed 2 days after arriving in Guadalajara. The surgery was perfect and there were no significant pain levels. The follow up after surgery items ei. walker, ambulance trip back to our hotel, and daily visit by the physiotherapist were all organized by Dr. Mendoza's professional staff. This is medical care at its best and incredible value for the price. I see a golf course in my future.

Excelente atención del médico y el personal. Me explicó detalladamente el problema y la terapia a seguir

As a resident of the United States and in need of a reliable,cost effective orthopedical procedure, I chose Dr. Mendoza in lieu of other facilites researched in Central America and am extremely pleased with the results. The medical care, personal attention, and professionalism received from Dr. Mendoza, his staff, and clinical personnel was of the highest quality and I couldn't have asked for better, anywhere. Even after arriving back to the U.S., Dr. Mendoza and his staff continued follow-up communications to ensure my recovery was a success. Thank you again for a job well done.

Due to osteoarthritis I needed a total hip replacement. As a USA resident who travels extensively for work I looked all over Latin America and Europe. However I wanted a specific style of hip replacement. This was offered by Dr Mendoza, from the beginning contact with Lori it was a very professional experience. I spent a month in guadalajara and could not have been happier with the outcome. If I ever have to have the other done I know where I am going. Thanks again for all the great work Rob Jones

I did a lot of research before coming to Mexico for such a major surgery. When I found Dr. Mendoza and read about his experience around the world with minimally invasive hip replacement, I felt fairly sure he was the surgeon I wanted for my procedure. I then made contact with his assistant, and from that point forward, I knew I had made the right decision. She and Dr. Mendoza are warm and friendly, as well as professional and quick to respond. After viewing my x-rays, Dr. Mendoza told me things about my hip, and why I had developed my problem, things my American doctors had never bothered to explain. My American doctors always treated me as if they didn't want to be bothered and were trying to get rid of me as soon as possible. My first visit with Dr. Mendoza lasted 45 minutes, and he treated me as if he had all day to spend, answering any questions I had. My hospital room was a beautiful suite, where my husband had a nice leather couch to sleep on. The nursing staff was very knowledgeable and prompt to respond if I needed anything. After leaving the hospital, I had a lot of pain on my first night, and Dr. Mendoza called my husband and prescribed a heavier medication. It says on his letterhead in Spanish "house calls"! I can't say enough good about my experience with Dr. Oscar Mendoza and his staff. Thank you, Dr. Mendoza!
---
Hip Replacement Surgery in Mexico with Dr. Oscar Mendoza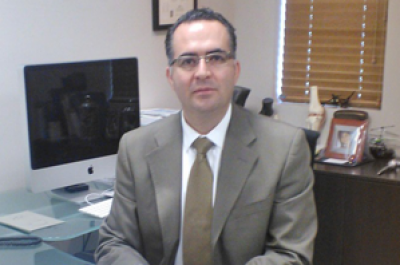 Hip Replacement Surgery in Mexico is dedicated…
To less pain, superior results, and a successful hip replacement surgery recovery
To affordable, cost effective options for orthopedic surgery abroad
To helping you understand the benefits and potential risks of hip surgery
To the Anterolateral Approach for Hip Replacement surgery
Undergoing hip replacement surgery in Mexico might be one of the most demanding decisions you ever make. Premier hip replacement surgery in Mexico delivers first-rate orthopedic care with the most focused detail in educating the patient on all treatment options, surgical risks and the process of rapid recovery.
If you suffer from arthritis or from severe pain in the  hip, it's time to restore your mobility, regain your independence, and return to an active lifestyle.
Pain and damage can limit your freedom and push you to the point where you are completely staying off" the joint — which often weakens the muscles. What can you do to eliminate pain? Are you a good candidate for hip replacement surgery?
Our hip replacement guides will get you back on the fast track to mobility and stress-free life.
What is Hip Replacement Surgery?
Total joint replacement surgery is one of the most significant surgical developments to date. Surgical practices and implant progresses have greatly amplified the effectiveness of hip replacement surgery in Mexico.
The Future of Mobility
Hip replacement infuses metal and ceramic components which replace the ball and socket of the hip. The head of the thighbone is interchanged with a high strength stem that is connected to a smooth metal or ceramic ball. The ball articulates with an immensely robust insert positioned in a metal cup that is surgically implanted into the pelvis.
Premier Hip Replacement Surgeon in Mexico
Premier hip replacement surgeon, Dr. Oscar Mendoza, offers an objective and empathetic diagnosis to hip pain, and exemplifies a forte for understanding arthritis and the skilled aptitude of hip replacements. Dr. Oscar Mendoza prides himself on providing cutting-edge technologies for joint issues.
Passion for Prevention
Dr. Oscar Mendoza and his entire surgical team are on dedicated to educating patients about orthopedic care—hip and knee replacement Mexico treatments—and the prevention of further injuries or unprovoked pain.
Unwarranted Hip Arthritis
Arthritis defers to the inflammation of a joint. As we age, inflammation can be the main passage to cartilage loss and exposed bone, instead of a typical, smooth joint surface.
The most collective type of hip arthritis is osteoarthritis—the wear and tear of hip mobility. Osteoarthritis consequences the wearing away of the smooth cartilage. If you are suffering from arthritis in the hip, learn the advantages of hip replacement surgery.
Traveling to Mexico for Hip Replacement Surgery
An open invitation to hip replacement surgery in Mexico awaits you! Hip replacement Mexico gives you exclusive access to devoted, world-class care, minimally invasive types of hip replacement surgery and the simplicity of travel.
Orthopedic tourism in Mexico has become more widespread along with the higher demand for hip replacement surgery in Mexico. Dedicated patient coordinators ensure your personal satisfaction in helping you arrange for air transportation, hotel accommodations and world-class destination retreats to relax and recover before and after surgery.
Freedom of Movement
The state-of-the art facilities of Dr. Oscar Mendoza are easily accessible, allowing you to focus on your surgical preparation and relaxation. Traveling for hip replacement surgery gives you a chance to explore Mexico's spectacular sights and affords individuals a wealth of benefits.
Cost of Hip Replacement in Mexico
Hip replacement surgery in Mexico is committed to excellent service, innovative facilities and surgery you can afford.
For patients in the US without health insurance, a hip replacement hinders their way of life by exceeding costs of $30,000 – $45,000. Patients with health insurance in the US typically still shell out thousands of dollars in out-of-pocket expenses.
The varying costs of hip replacement include the pre-op tests, initial hip replacement medical evaluation, hospital fees and surgeon's fees.
Hip replacement surgery in Mexico can channel these expenses into savings of over 60%. Instead of living with pain and reduced mobility, you can join the thousands of patients who are traveling to Mexico for hip replacement surgery at affordable costs.
By delivering world-class affordable hip replacement surgery, Dr. Oscar Mendoza and his elite staff make it easier for you to achieve the orthopedic superiority of life you desire.
Contact Dr. Oscar Mendoza and get a FREE quote
How can we contact you?
Intend To Proceed
Contact By
Once you click the button you will receive your quote in your email within a few minutes and we will never spam you.

Contact Us